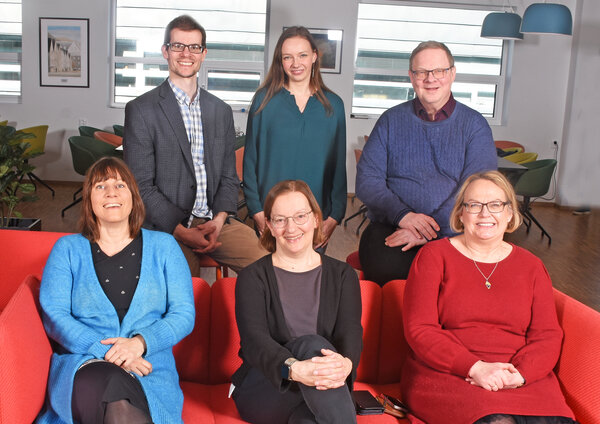 New Western Norway initiative to combat antimicrobial resistance
Antimicrobial resistance (AMR) is a top threat to global health according to the World Health Organization (WHO), with a current count of 700,000 annual deaths, predicted to rise to 10 million and pose a 100 trillion USD economic burden by 2050. With funding from the Trond Mohn Foundation, the University of Bergen, Haukeland University Hospital and Stavanger University Hospital have joined forces to carry out research on this serious health threat. Research questions to be studied are how and why resistance develops and spreads, and how healthcare personnel, politicians and the general public can be encouraged to reduce unnecessary use of antibiotics.
The new centre for antimicrobial resistance in Western Norway will stimulate interdisciplinary research collaboration, to link knowledge and methods from medicine with the social sciences, informatics and mathematics. The research centre has therefore been named CAMRIA – Combating Anti-Microbial Resistance with Interdisciplinary Approaches.
'Three projects will now be initiated with funding from the Trond Mohn Foundation,' says Nina Langeland, head of the centre and professor of infectious diseases at the University of Bergen (UiB).
The Trond Mohn Foundation is supporting the initiative, which will run until 2026, with NOK 25.7 million, and the host institutions will together contribute with an equivalent amount. 'Funding research that can help to limit the risk of antimicrobial resistance is probably our most important contribution,' says CEO of the Trond Mohn Foundation Sveinung Hole. 'The national programme against antimicrobial resistance is our biggest ever investment. CAMRIA complements this investment,' he adds.
Important to the research environment in Stavanger.
'Participation in CAMRIA is an important incentive for the research environment at Stavanger University Hospital,' says Managing Director of Helse Stavanger health trust Helle Schøyen. 'We've built up a strong medical microbiology environment over the past few years and will now be in a position to develop it further. The battle against multi-resistant bacteria is a global effort we must all take part in,' she emphasises.
Stavanger University Hospital is also a partner in the research project KLEB-GAP. The project is led by the University of Tromsø (UiT) and forms part of the Trond Mohn Foundation's national AMR initiative. 'There are three research fellows in our research group and several researchers attached to this initiative,' says Iren Høyland Löhr, chief senior consultant at the Department of Medical Microbiology and one of the project managers.
How can attitudes and behaviour be changed?
One of the three research projects at CAMRIA is exploring the extent to which healthcare personnel and the general public understand the risk posed by the lack of effective antibiotics for combating in part life-threatening infections. This work will form the basis for better and more efficient communication about this risk. Ingrid Smith, senior consultant, and specialist in infectious diseases at Haukeland University Hospital, is head of the project 'Risk communication and understanding among the general public and healthcare personnel – necessary knowledge for developing new plans and interventions.
'The COVID-19 pandemic has been described as an 'infodemic', or an information pandemic, which has contributed to changing people's behaviour. In a short space of time, people have understood the necessity of infection control measures such as washing hands, physical distancing and using face masks. Antimicrobial resistance is also a pandemic, but it has not led to similar behavioural changes in the form of infection control measures and more appropriate use of antibiotics,' she says.
'We therefore need to learn more about how healthcare personnel and the general public understand the risk and use this knowledge to bring about necessary changes in behaviour. The goal is to investigate how antimicrobial resistance is presented in the media and how attitudes and actions related to the problem are formed. When we know more about this, it will be possible to design effective strategies and measures to slow down the development of antimicrobial resistance.'
The project is designed to include interviews with both healthcare personnel and the public, the latter through the Norwegian citizens panel which will be led by Professor Anne Lise Fimreite, UiB. Professor Jens E. Kjeldsen, UiB will lead the work on how antimicrobial resistance is presented in the media. In addition to the researchers in Bergen, specialists in infectious diseases from Imperial College London will be involved in the project.
Using machine learning to monitor and trace resistant genes
Antimicrobial resistance (AMR) has increased together with the increase in use of medicines such as antibiotics in the healthcare sector and in other industries. A large percentage of antimicrobial resistant genes (ARG) found in humans originate in nature and environments outside hospitals. Few studies have been carried out on these ARG reservoirs, despite the transfer of resistant genes from the environment playing an important role in the development of multi-resistant bacteria. Monitoring of AMR is further challenged by not knowing which bacteria are the source of ARGs, making it difficult to trace AMR across environments. These challenges form the basis for the project 'Surveillance and metagenomic tracking of antimicrobial resistance genes in environmental and clinical samples using machine learning approaches'. The project is managed by researcher Randi Jacobsen Bertelsen from the Department of Clinical Science 2 at UiB.
'We have access to unique samples taken over time from population-based cohorts, patient populations and from the environment. This makes it possible to identify important ARG reservoirs and to map geographical differences and changes in antimicrobial resistance over time in the population and in the environment around us,' she explains.
These samples also enable the researchers to compare ARG types and their occurrence using difference sources: oral and intestinal samples from patients and the general public, from indoor environments in houses and from wastewater.
'We will use advanced methods to describe the occurrence of known and new ARGs in various reservoirs, and use ground-breaking models combined with bioinformatics to identify the correct bacteria source as the origin of the resistant genes. We will use efficient screening methods along with mathematical models and machine learning to describe how antimicrobial resistance is transferred between different sources. This knowledge could result in better methods for AMR monitoring and provide healthcare personnel and decision-makers with relevant information,' says Randi Jacobsen Bertelsen.
Aside from researchers from the medical and natural science departments at UiB and the Department of Thoracic Medicine at Haukeland University Hospital, the project will also include specialists from the Department of Biology at Aarhus University and the Norwegian Institute for Water Research (NIVA).
HyperEvol – predicting the development of antimicrobial resistance
In the third project, mathematicians from UiB will join forces with medical researchers from Bergen and Stavanger to develop methods that can predict the spread of antimicrobial resistance. Researchers from the Institute of Microbiology and Infection at the University of Birmingham will also participate in the project.
'To understand which factors lead to the development and spread of AMR, there is a pressing need for new approaches that can identify development processes in the body from a real dataset. This will enable us to use the large and increasing quantity of clinical data to develop models that are suitable for this purpose,' says project leader Iain Johnston, who is professor of mathematics at the Department of Mathematics at UiB.
'In Bergen, we've developed HyperTraPS (hypercubic transition path sampling), which is a powerful mathematical way to learn evolutionary pathways with the help of large-scale biological data. This approach has been very successful and has been highly significant in both scientific terms and in suggesting new treatment strategies.'
HyperEvol has brought together international mathematicians, statisticians, microbiologists and clinicians who will develop the necessary methods to apply this approach to the development of antimicrobial resistance and link it to new data relating to different infectious diseases among people in Norway and Africa. The objective is to learn and predict how AMR develops in these cases. The results will be published and made available internationally for worldwide use.
'Given a new bacteria clone that is observed when treating patients and that has a specific profile for resistance to antibiotics, we will be able to predict which antibiotics it is most likely to develop resistance to and tailor clinical decisions and treatment strategies on that basis,' says Iren Høyland Löhr at Stavanger University Hospital.
'We will be able to analyse whether geography, demographics or other variable forms of development of antimicrobial resistance are "universal". We will also learn about the biology involved, i.e. which genetic resistance mechanisms increase or reduce the probability of other mechanisms developing. HyperTraPS incorporates and quantifies uncertainty throughout the analysis, which means that all predictions and conclusions have a direct measure for reliability, and can be interpreted and acted upon on that basis,' explain Johnston and Høyland Löhr.
Important in the specialist health service
Haukeland University Hospital is the chair of the National Centre for Antibiotic Use in Hospitals (KAS). 'Knowledge sharing that can limit the use of antibiotics in hospitals is extremely important to combat resistance. The research projects taking place at CAMRIA will contribute to that end,' says CEO of Helse Bergen health trust Eivind Hansen.
Rector Margareth Hagen of UiB emphasises the importance of the new research centre taking an interdisciplinary approach to the challenges antimicrobial resistance represents. 'We look forward to following the projects' development and using the new knowledge they will produce,' she says.
Ingress photo: Leader group, CAMRIA. Photo: Jørgen Barth/UiB