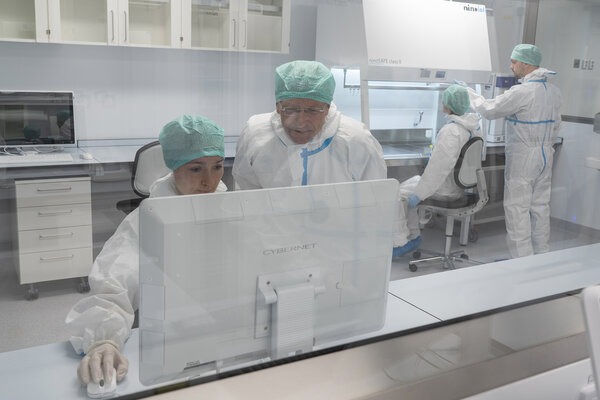 Major investment in advanced cell therapy
The funding from the Trond Mohn Foundation will give researchers in Bergen the opportunity to develop new ways of treating chronic and acute wounds, bone damage and psychosis using stem cells. Many patient groups will benefit from the establishment of the regenerative medicine centre and its research.
'Mohn Research Centre for Regenerative Medicine at Haukeland University Hospital will be a potent arena for the development of knowledge that will benefit several groups of patients,' says centre leader Einar Klæboe Kristoffersen. He is a professor at the University of Bergen and head of the Department of Immunology and Transfusion Medicine at Haukeland University Hospital's Department of Laboratory Medicine and Pathology. 'The goal of regenerative medicine – also known as advanced cell therapy – is to replace lost organ function by providing patients with manipulated cells created in specialist laboratories.
Kristoffersen emphasises that regenerative medicine is developing globally, both as a form of treatment and as an emerging field of medicine. So far, three different research projects are scheduled to take place in the new centre in Bergen over the coming four years. In addition, there will be a collaboration project with the experimental immunotherapy research group at Oslo University Hospital. The Trond Mohn Foundation supports these efforts with a total of NOK 30 million, and the University of Bergen (UiB) and Helse Bergen health trust will both match this contribution.
Since its establishment in 2004, the Trond Mohn Foundation has provided a total of approx. NOK 1.6 billion in funding to around 190 research projects. The projects have been selected on the basis of the expert assessments of the universities and university hospitals themselves and the prioritisation of important fields of research. 'Mohn Research Centre for Regenerative Medicine is next in a long line of investments that allow researchers in Bergen to generate knowledge that will benefit patients in Norway as well as the rest of the world,' says Sveinung Hole, CEO of the Trond Mohn Foundation. 'It is a great pleasure to be able to contribute funding to make this possible, and we have great expectations of the results of the centre's work.'
Cell transplant as wound treatment
The establishment of the centre in Bergen is intended to promote both the development of new cell therapies and the application of forms of cell therapy developed at similar centres abroad.
One of the projects, led by Cecilie Bredrup, associate professor at UiB and senior consultant at the Department of Ophthalmology at Haukeland University Hospital, and Stian Almeland, associate professor at UiB and senior consultant at the Surgical Clinic at Haukeland University Hospital, aims to introduce cell-based products in the treatment of certain wound healing problems affecting the eyes and skin. Different forms of wounds represent a major health problem, and these novel approaches are revolutionising the treatment of wounds that are difficult to get to heal. This project will apply established methods for using mesenchymal stem cells (MSC) and investigate whether these methods are suitable for treating acute burns and chronic corneal ulcers. Sophisticated and innovative methods will be used to assess the treatment outcomes.
Stem cells treatment for bone damage
Another project, led by Professor Kamal Mustafa and the Tissue Engineering Research Group at UiB's Department of Clinical Dentistry, will also be using mesenchymal stem cells (MSC) in an attempt to develop new treatment options for the bone disease osteonecrosis. When bone tissue, for example in a jaw bone or femur, dies, that causes a great deal of suffering and reduces the quality of life of many patients worldwide. This research group has already conducted several clinical studies funded by the Trond Mohn Foundation, the Research Council of Norway and the European Commission that have clearly demonstrated the formation of new bone of good quality and quantity after severely resorbed jaw bones were treated using MSC. The treatment allowed patients to have dental implants and new teeth fitted.
The objective of this project is to evaluate how safe and effective MSC treatment of bone defects is in this patient group. MSC is considered a more gentle treatment for osteonecrosis than other treatment options currently in use. Regenerative medicine is a field that brings great benefit to patients, and one of the goals of this project is to ensure and increase the recruitment of young research talents to this important field.
Personalised medicine in treatment of psychosis
Psychoses in schizophrenia patients are normally treated using ordinary antipsychotic drugs. However, about one in three of these patients do not benefit from this treatment. The alternative available to them is clozapine, an antipsychotic drug that is often effective when ordinary antipsychotics do not work. At present, clozapine is only prescribed after a patient has tried two ordinary antipsychotic drugs without effect. The reason for this is that clozapine is a more challenging drug to use. In many cases, the process of trial and error goes on for months because, unfortunately, we know very little in advance about which patients will benefit from ordinary antipsychotics and who will need clozapine, and about the biological mechanisms that differ between the two groups. Increased knowledge about biological and genetic factors that could explain why the effects of the available treatments differ so much between patients could therefore be important to many patients diagnosed with schizophrenia. The goal is to improve diagnostics and provide more personalised treatment to patients suffering from psychosis.
This research project, which is to be led by Erik Johnsen, professor at UiB and head senior consultant at the Psychiatric Clinic at Haukeland University Hospital, will bring together expertise from several fields, ranging from clinical psychiatry to molecular biology and stem cell research, to identify cell-specific factors in patients, among other things.
Collaborative project Bergen–Oslo
For many years, Haukeland University Hospital and Oslo University Hospital have both been engaged in research on how genetically manipulated cells can be used to treat a broad range of diseases. Mohn Research Centre for Regenerative Medicine will receive funds that will enable research groups in Bergen and Oslo to develop 'carbon copy' protocols for the production of genetically modified cells for use in cell therapy for patients. This project will be led by centre leader Einar Klæboe Kristoffersen, who is also the head of the new Ex Vivo cleanroom laboratory facility that will soon be operational at Haukeland University Hospital.
The protocols will be recipes that, once approved by the relevant authorities, can be used in this and other specialist laboratories to produce cells for patient treatment.
Important to many patient groups
'I have high expectations of the collaboration between a broad team of strong basic research communities at UiB and the research communities affiliated to Haukeland University Hospital's new cleanroom laboratory,' says Rector Margareth Hagen of UiB. 'I am also delighted that the internal application round shows that there is great potential for further cooperation in this field going forward,' she says.
Eivind Hansen, CEO of Helse Bergen health trust, is also pleased about the new research centre. 'This will help Haukeland University Hospital to take pole position in a growing international field with very many applications, which is also reflected in the broad range of projects the centre is engaged in. It is particularly valuable from our perspective that this collaboration has the potential to rapidly provide sorely needed treatment options for many patient groups.'
Caption: Einar K. Kristoffersen is the centre leader of Mohn Research Centre for Regenerative Medicine. Here he is looking at preliminary results in the new Ex Vivo cleanroom laboratory at Haukeland University Hospital with Head of Production Petra Vogelsang. (Photo: Øystein Fykse / Helse Bergen)